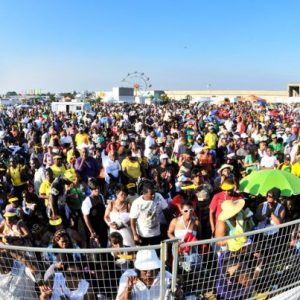 Monday, August 6, 2012 – Fifty remarkable years of independence from Britain, this is what folks were celebrating at Jambana – the largest event in Canada showcasing Jamaica's culture.
It was a beautiful afternoon as thousands gathered at The Meadow in Downsview Park for a day of celebration. A festival with many exciting components including Caribbean inspired  dishes, a fun-filled village for the children and a good ol' fashioned dominos tournament, "Lick A Six".
Visitors could also take pleasure in a beer or another type of cold beverage from the Beer Tent while they took in a day full of entertainment. Divine Brown and Dru were amongst others who sang their hearts out on stage allowing everyone in the crowd to take it in.
An enjoyable day had by all including ourselves who were able to join in the festivities. Tenting the celebration of 50 years of independence marks an important date in our books for this year.
Are you looking for a company to provide a tent for your upcoming event? Contact us for a FREE estimate.