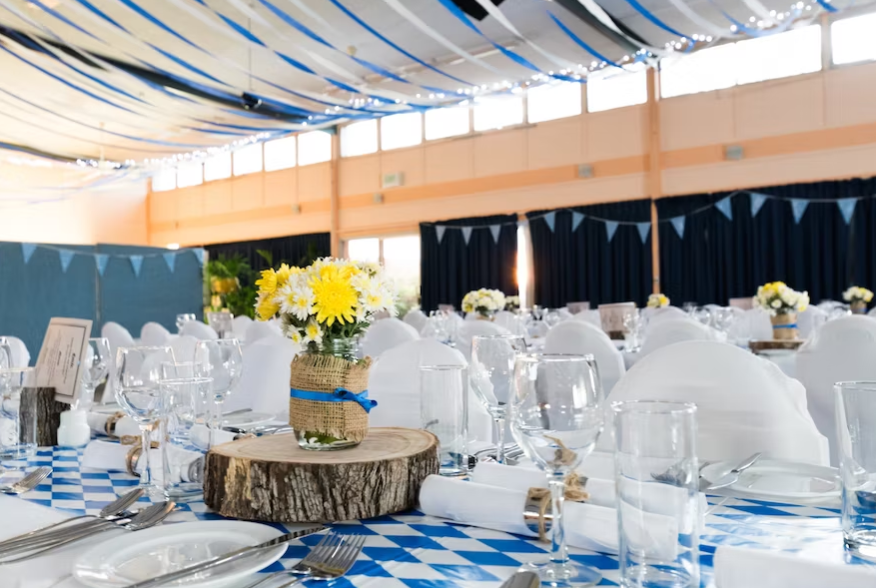 Fall is a season that many people highly anticipate, and it's not just because of the beautiful foliage that adorns the trees. It is also a highly popular season for weddings due to the unique atmosphere it creates. The crisp air and vibrant colors of the season set the perfect backdrop for a romantic and intimate celebration with white wedding tents. However, with the potential for unpredictable weather, it's important to have a plan to ensure your wedding day is comfortable and unforgettable. 
Why Rent a Wedding Tent?
Renting a tent is a brilliant way to create a versatile and comfortable space that embraces the beauty of the outdoors while providing shelter from any potential rain or wind. This way, you and your guests can enjoy the lovely fall weather without worrying about the elements. White wedding tents provide beautiful luxury for your wedding. 
20 Dream Wedding Tent Ideas
To help you envision your dream fall wedding, here are 20 tent rental ideas that will transform your special day into an unforgettable autumn affair.
1. Rustic Chic:
Embrace the rustic charm of the fall season with a tent adorned in wooden accents, burlap tablecloths, and mason jar centerpieces filled with seasonal blooms.
2. Harvest Feast:
Set up long communal tables inside the tent and decorate them with an abundance of fall fruits, vegetables, and foliage for a bountiful and inviting atmosphere.
3. Elegant Drapery:
Choose a tent with billowing white drapery and elegant chandeliers to create a luxurious and romantic ambiance.
4. Garden Oasis:
Create an indoor garden under the tent by lining the space with potted plants, greenery, and hanging floral arrangements.
5. Moody Lighting:
Illuminate the tent with string lights, lanterns, and candles for a warm, enchanting glow that complements the fall evening.
6. Farm-to-Table Dining:
Serve a farm-to-table menu featuring locally sourced ingredients to celebrate the season's harvest.
7. Whimsical Fairytale:
Bring a fairytale atmosphere to your fall wedding with a tent adorned in whimsical decor like hanging crystals and fairy lights.
8. Autumn Color Palette:
Embrace the fall color palette by using rich hues of deep reds, oranges, and earthy tones in your table settings and decor.
9. Cozy Lounge Area:
Create a cozy lounge inside the tent with plush seating, blankets, and a roaring fire pit for guests to enjoy as they celebrate.
10. Harvest Moon Dance Floor:
Design a dance floor that reflects the spirit of the season with a harvest moon or starry night backdrop.
11. Vintage Elegance:
Incorporate vintage furniture, antique rugs, and heirloom decor items to infuse your fall wedding with timeless elegance.
12. Canopy of Leaves:
Hang an overhead canopy of fall leaves and branches to bring the season's natural beauty into the tent.
13. Bohemian Bliss:
Create a bohemian-inspired wedding with low tables, floor cushions, and hanging tapestries for a relaxed and artistic vibe.
14. Pumpkin Decor:
Use pumpkins of various sizes as table centerpieces, candle holders, and aisle markers for a charming and quintessentially fall touch.
15. Wine and Dine:
Feature a wine-tasting station with a selection of local wines that pair perfectly with the fall menu.
16. Industrial Chic:
Combine the warmth of fall with the coolness of an industrial setting by choosing a tent with metal accents, exposed beams, and modern decor.
17. Country Elegance:
Blend rustic country elements, like barn doors and hay bales, with elegant touches such as crystal chandeliers and satin linens.
18. Floating Florals:
Hang suspended floral installations from the tent ceiling for a dreamy, whimsical look.
19. Vintage Photo Booth:
Set up a vintage-inspired photo booth complete with props like feather boas, hats, and old-fashioned frames for fun and memorable snapshots.
20. Romantic Driveway Entrance:
Line the entrance to the tent with lanterns, candles, and floral arches to create a romantic and inviting pathway for your guests.
Contact Varsity Tents Today
These 20 tent rental ideas for a fall wedding provide many options to suit your style and vision. Whether planning an intimate gathering or a grand celebration, a well-designed tent can help you make the most of the stunning fall backdrop while ensuring your guests are comfortable and sheltered.
With creativity and attention to detail, your fall wedding under the tent will be a day to remember, filled with the warmth and beauty of the season.