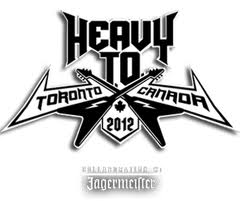 One of the best festivals that Downsview Park has yet to host was this weekend's – August 11 & 12 – HeavyTO; a metal and hard rock music festival in Toronto.
A sea of black t-shirts got down and dirty with Marilyn Manson, The Cancer Bats, Five Finger Death Punch (FFDP), The Deftones and Slipknot. But the real icing on the cake was System of a Down (SOAD) who closed out the weekend. FFDP thought they had nailed the best performance, however SOAD swooped in and stole the show.
With almost a flawless set, Serj (lead singer) and the boys of SOAD made their set look absolutely effortless. It was remarkable that they are able to draw such a crowd after 7 years of not producing any new material but loyal fans pushed their way to the front of the stage to endure the tense mosh pit that was sure to develop. And of course it did.
Through the thick of people we were able to see some of our tents off in the distance. Those in attendance were able to enjoy the hardcore festivities under the Merch Tent (more black t-shirts), Beer Tent, Sunrise Record Tent, Jagermeister Tent and the list goes on. There was no shortage of things to do and see at this event.
With the addition of a few extra tents on Friday – due to the Toronto forecast – we were happy to have festival management and staff, artists and band members and most of all ticket holders covered.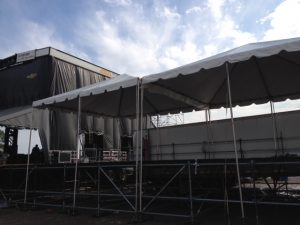 Did you attend HeavyTO? If so, we would love to hear your feedback. Please feel free to comment below, follow us on Twitter or join our Facebook page.
Are you a Production Manager of a large scale festival or concert and need assistance on tent and event rentals? Then contact us for a FREE estimate. We are happy to help!