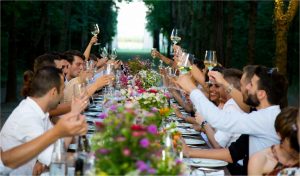 Outdoor wedding trends are all about creating the best atmosphere for a new couple to beginning their lives together. The main thing is to take advantage of what already exists and to try to enhance it. Start by finding a venue that means something to you. Then, look to small, meaningful ways that you can ensure your wedding will be a day you won't ever forget.
Backdrop
As everyone sits in the audience, looking at the bride and groom recite their vows, why not wow your guests with a stunning backdrop? Mountains, the ocean, a grove of trees, all are free forms of decoration and as a bonus, the wedding pictures will look truly superb.
If you're a true perfectionist, try to time the wedding ceremony with the setting of the sun. This will really wow your guests.
Different Areas
It can be tempting to have all the wedding elements under one big tent, but one of the outdoor wedding trends that is popping up is multiple areas under multiple tents. Different areas include eating, dancing, lounging, and drinking. This has a few results.
One result is that there are more cozy, intimate areas. It can be hard to talk over the dim of the wedding band, and a separate lounge tent allows a space for those wanting conversation. Tents can be open or closed depending on the space or feel of the wedding.
Different tent areas add variety and something that guests will notice and remember. To add even more variety, have different sizes of tents. Include micro-tents that can only accommodate one lounger. Then, have larger ones that can hold a bar area and a few chairs. Variety will make guests want to circulate and discover.
Blend formal with casual
Just because your wedding is outdoors, doesn't mean that it will be a casual BBQ affair. Instead, blend the rustic charm of the outdoors with the formal elements of a posh wedding. China plates and sterling silver cutlery with linen napkins show sophistication. Pair them atop a wooden table for a great juxtaposition.
Host the wedding inside a barn but have a chandelier hanging from its ceiling. Use gold accents and gingham fabric. There are less restrictions with outdoor wedding trends, so don't be afraid to take a few risks with the décor. It's a great chance to show your diverse personality.
Flower power
Like all weddings, flowers hold a special place in outdoor weddings. Here, though, you can be really creative. There is more space for potted flowers and shrubs. You can also choose a venue that has a garden for spectacular live flowers.
Add a personal element by using local flowers from your garden in your bouquet. The more meaning that is incorporated into a wedding, the better it will be.