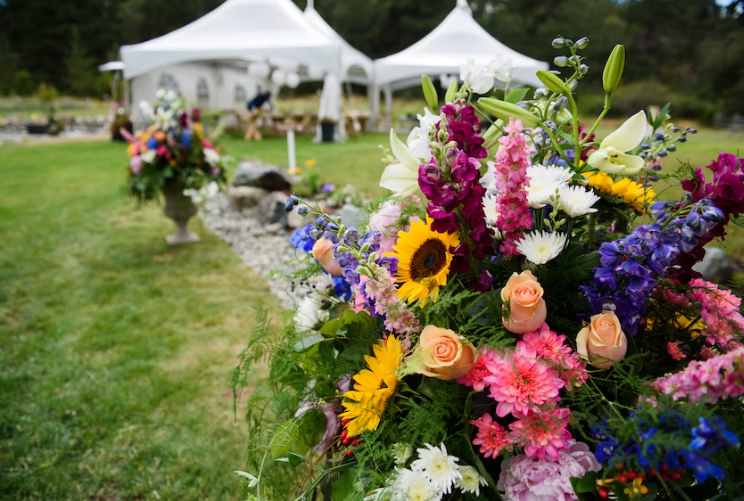 In the heart of Toronto's crisp fall and winter seasons, the enchantment of an outdoor wedding takes on a whole new level of elegance. If you're a bride-to-be seeking to infuse your special day with the magic of nature while keeping the cozy ambiance intact, luxury wedding tent rental ideas are the answer. This guide unveils the top trends that will help you transform your dream wedding into a breathtaking reality, all against the backdrop of Toronto's scenic beauty.
Creating a Warm and Whimsical Atmosphere: Luxury Tents for Fall and Winter Weddings
When the leaves start to turn, and snowflakes gently descend, the allure of an outdoor wedding holds a unique charm. A luxury tent rental provides the perfect blend of comfort and elegance, allowing you to celebrate your love story while staying shielded from the elements. These stunning structures are blank canvases, ready to be transformed into the wedding wonderland of your dreams.
6 Top Trends to Consider for Your Fall or Winter Wedding
1. Sheer Elegance with Draping: Soft, flowing drapes in rich hues create an intimate atmosphere within your luxury tent. Consider jewel-toned drapes that mimic fall colors or choose wintry whites for a romantic touch. Draping not only adds a touch of luxury but also helps to define different spaces within the tent.
2. Nature's Bounty on Display: Bring the season's beauty into your wedding tent by incorporating natural elements. Think lush garlands of fall foliage, pine cones, and winter berries that adorn your tables and décor. These organic touches infuse your wedding with an authentic connection to Toronto's outdoors.
3. Candlelit Magic: The soft glow of candlelight sets a magical tone for fall and winter weddings. Adorn your luxury tent with an array of candles in various sizes and styles. They create a romantic and cozy ambiance, perfect for celebrating love amidst the colder months.
4. Warmth and Comfort: Toronto's fall and winter weather can be chilly, but that doesn't mean sacrificing comfort. Consider installing heaters or fire pits within the tent to keep your guests cozy and warm. These elements also add a touch of rustic charm to your wedding setting.
5. Whimsical Lighting: Embrace whimsical lighting elements to create a fairytale atmosphere. Twinkling fairy lights, chandeliers, and lanterns can be hung from the tent's ceiling, adding a touch of enchantment to your wedding décor.
6. Rich and Luxurious Textures: Incorporate plush textiles like velvet and faux fur into your wedding design. These textures add depth and richness to the overall aesthetic, creating an atmosphere of opulence that's perfect for fall and winter weddings.
Why Luxury Tents for Fall and Winter Weddings in Toronto?
Toronto's fall and winter seasons hold a unique allure perfect for creating unforgettable wedding memories. Luxury tents allow you to bask in the beauty of the outdoors while ensuring your comfort and warmth.
Whether you're exchanging vows amidst the rich palette of autumn leaves or under a starlit winter sky, luxury tents provide a canvas for your love story to unfold in an elegant and magical setting.
Fall and Winter Romance with Varsity Tents
As a bride in Toronto, your dream of an enchanting fall or winter wedding is within reach. Luxury wedding tents offer the perfect canvas to bring your vision to life. By embracing the top trends – from draping to candlelight, nature-inspired décor to warm textures – you can create a wedding experience that's as cozy as it is luxurious.
With Toronto's scenic beauty as your backdrop, your wedding will be a testament to the magic of the seasons. Contact Varsity Tents today.