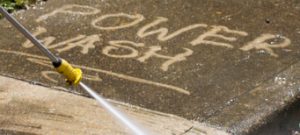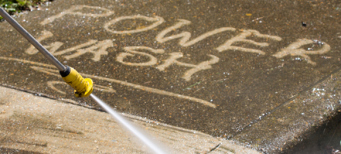 Is your driveway looking a bit worse for wear? Has your decking seen better days? Power washing is a great way to restore them to their former glory. It removes dirt, grime, mold and paint quickly and easily. However, it's best to leave it to the professionals instead of attempting it yourself. In this post, we'll tell you why.
Why Mobile Power Washing is the Best Option
Read on to find out why power washing isn't a DIY job.
Safer – While it is possible to rent power washing equipment and use it yourself, it's not recommended. This is because it can be easily misused, and has the potential to cause serious injury. The high-pressure water stream can easily pierce skin and eyes. It's not only dangerous to you, but to your property, too. If used incorrectly, it can damage your driveway, your car, and the exterior of your building. If you do it yourself, you could end up inadvertently stripping away layers of your home, and causing damage that's expensive the fix. A pressure washer should be used with caution, and is best handled by trained professionals.
Better Equipment – When you rent a power washer, you might find that the pressure isn't as high as you expected. This is because the equipment has been used over and over again by different people. Toronto mobile power washing professionals only use the best equipment, and regularly maintain it to make sure it provides the best possible results.
Faster – Power washing is by far the fastest way to tackle any cleaning job. That's the main appeal of it. However, it's only fast if you know what you're doing. It can be a time-consuming task if you're not familiar with it. A team of power washing specialists know exactly how to get it done. If you hire them, you'll be surprised how quickly they can get everything looking as good as new. That also gives you time to do other, more important things.
Eco-Friendly – During power washing, various cleaning chemicals are used. These chemicals can sometimes contain toxins that can be harmful to the environment. It's important to ensure that they're kept away from water and food sources. Power washing professionals know how to do this because they're required to follow industry standards and regulations. They also know how to select cleaning solutions which are eco-friendly while cutting through dirt and grease.
Mobile Power Washing Services in Toronto
At Varsity Tents, we have a team of trained power washing professionals who are available for all jobs, big and small. Whether you need to blitz the outside of your house to increase its kerb appeal before selling it, or just spruce it up a little, we can help. We're dedicated to providing the best mobile power washing in Toronto, and guarantee that you'll love the results. Let us know what you need, and we'll give you a free estimate.