Mobile power washing Toronto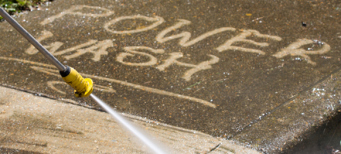 Mobile power washing Toronto: Mobile Power washing or high-pressure washing is an effective, safe, and quick way to clean your porperty's exteriors, sidewalks, and parking spots. A good power washing can leave your property looking clean, fresh and attractive – a great impression for the public entering your building. Varsity Tents' mobile pressure washing services can make your property look as good on the outside as it does on the inside.
Utilizing Commercial high pressure cleaning equipment in conjunction with the use of commercial grade bio degradable cleaners that are both environmentally friendly and safe near landscaping, children, and pets, Varsity Tents is dedicated to providing the highest level of quality Mobile power washing Toronto
Why choose Varsity Tents for Mobile power washing Toronto
Varsity Tents' well-trained mobile power washing Toronto team can prevent long-term damage and provide a clean, fresh-looking surface. Power washing is safe and efficient – cleaning large areas in a fraction of the time compared to manual cleaning. Tested and proven environment-friendly cleaning fluids in the power wash can cut through the toughest accumulated dirt and grime, rinsing away unsightly contaminants.