Friday, July 13, 2012– Varsity Tents jumped aboard the Full Flex Express on Friday night in Toronto.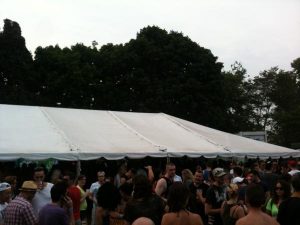 The train pulled into the station and we were happy to be part of stop number one as Grammy winning, DJ/producer Skrillex took Fort York by storm.
Excitement Both Inside & Outside of our Tents
Musical styling by Grimes, Diplo and Pretty Lights were the ideal choices to get this show off to a fast paced start while Skrillex brought the crowd home. The perfect mix of visuals and sound, Skrillex had aimed to please. With his spaceship like staging, lights that were sure to blind those miles away and a crowd roaring for more, the Full Flex Express Tour made quite the impact amongst electronic music lovers.
An evening that took nearly seven hours most certainly pleased those who had a ticket to join this ride.
We were pleased to keep the massive group of fans shaded at this outdoor concert and hope we can do the same in the future.
We can Tent for You too
Do you have and upcoming concert that requires tent services? Please give us a call for a free estimate.