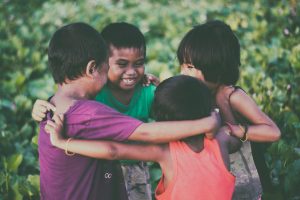 Being a parent comes with its own set of struggles. Being a working parent can be difficult, especially when you've got to fit professional events into a busy schedule. The same goes for bridal showers, baby showers, adult birthday parties, and many other events. They all have something in common. Adults gather together for one reason or another and those with kids are forced to choose between attending or staying home with the kids. It's understandable to want a more adult atmosphere for events like those listed. That atmosphere is accomplished with an indoor venue decorated to the nines. But can that same adult atmosphere still be achieved while being family-friendly at the same time? Of course! Let's see how tents can aid in achieving this.
There's more space
Having an outdoor event means your venue is much more expansive than an indoor one. Without the confining walls of a building, there's plenty of room for your guests to bring people with them – namely, their kids. People bringing unexpected family with them at an indoor event could quickly lead to crowding. An event with a tent won't have that problem.
Room for play
In the same vein, having kids around causes a lot of problems if they're trying to play underfoot. Kids brought along to adult events are quick to pick each other out and congregate to keep entertained. Having a bunch of kids running around is a nightmare in cramped quarters, agitating guests and making it hard to move around without tripping over a child.
Using a tent allows ample room for them to run and play just outside of the adult circles. Parents can keep an eye on their kids and still have an easy time enjoying adult company.
The great outdoors is spill-proof
Another concern of having kids at an adult event is the potential mess they can make. It's not hard for a small child to leave a trail of mess behind themselves. Luckily, outdoor events are immune. No one needs to worry about cleaning up spilled drinks or broken pieces of cracker behind a toddler. Nature can handle it!
Tents can be outfitted to fit any weather
It's natural to be concerned at the prospect of an outdoor event when weather can vary greatly. That's why it's so great that there are accessories you can rent with your tent to counteract bad weather. Heaters, air conditioning, it's all available. Plenty of tents are available as well. If you're worried about covered space running low, rent more than one. The possibilities are endless!