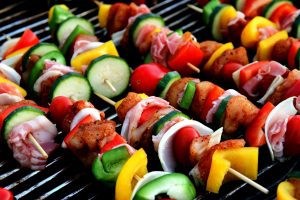 As summer starts to heat up, it's natural to want to plan the perfect BBQ party. It's always fun to bring people together, and a BBQ party is a great way to do so. Read on to find some helpful tips for planning the perfect BBQ party.
Save the date
There's nothing worse than panning the perfect BBQ party only for no one to show up. So start by talking to the people that will be coming to see what dates will work out. Try to avoid long weekends as people normally travel out of town. Have the expectation that not everyone will be able to come, so don't be disappointed if this happens.
Once you have a consensus a date that works for most people, send out the invitation. Sites like Facebook or evites are great for electronic notices. Make sure you send reminders closer to the date so no one forgets.
Location, location, location
The perfect BBQ party needs to be outside, so there are plenty of options for the best location. If you or someone you know has as large backyard that would be a convenient location as it allows for more food prep with a kitchen.
If this isn't an option, look for local parks or beaches. For a specific picnic area, check with the local park board to see if it can be reserved. If not, you may need to send someone out early as popular spots can fill up fast.
No matter the location, think about the worst that could happen for a BBQ party: rain! Even at the height of summer, rain is always a possibility. If you can reserve an undercover picnic spot at a park, the better. If not, consider renting a tent, just in case. There's nothing worse than soggy hamburgers, but a party tent can salvage any BBQ party and keep spirits bright.
It's all about the food
Preparation is key to making a successful BBQ party. You want to enjoy the party with everyone else, so the more prep that is done means the more time you get to spend at the party. Make your hamburger patties up the day before, or better yet, buy pre-made ones. Even something as simple of ensuring the buns have been sliced will help. Fruit and vegetables can be cut up ahead of time, or trays can also be bought at any grocery store.
If you are inviting a lot of people to the BBQ, don't be afraid to ask for help. It's quite common for the party hosts to provide the main meal, and for guests to bring extras like chips, dips, and other snacks. It's always exciting to try different recipes. To avoid duplicates, however, it may be a good idea to ask everyone to share what they plan on bringing.