Saturday, August 18, 2012 – Who could pass up these three S's… Saturday, sunshine and Sublime. We sure couldn't!
It was the first Saturday in weeks that it had not rained and we were going to make the most of it. Excited for the day, we jumped into the car and headed for Fort York – which seemed as though it was the longest ride known to man – to join the other happy souls that were about to embark on an afternoon of seeing some of the coolest bands at the Garrison Common.
Union Events had dished up an incredible day of tunes to bask in the sun to. The first act, Ko, stormed the stage and graced patrons with his musical stylings preaching stories of his past. Ill Scarlett had the crowd with their hands in the air and Pepper jumped in to join the fun. But the day was not over yet, The Wailers were more than we could have expected. Now there is a group that puts on a great live show and was the perfect way to open for Sublime with Rome. The final act was breathtaking and mesmerizing, everyone was simply relaxed and enjoying the vibe.
We have had the privilege of tenting some great events this summer. Sublime Summer was a fantastic event to see our tents at. Dressed up with beer brand attire, band merchandise and more, our tents looked superb in the sun.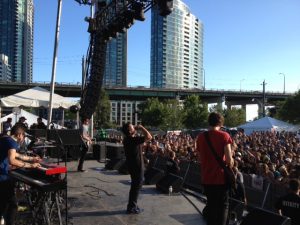 We had a great time both being a supplier and a patron. Thank you for having us. See our Twitter and Facebook for photos of our fun.
Do you have an upcoming show that you require a tent or event rentals? Contact us today for a FREE estimate.