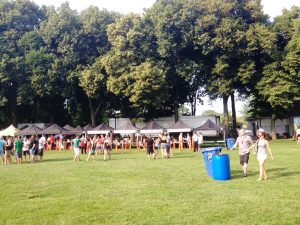 Event planning is a fun and exciting job. You get to put together lots of different parties, ceremonies and corporate events, and to enjoy the satisfaction of watching your clients enjoy them. For extroverts, people pleasers and social butterflies, it can be the perfect job. However, it's also incredibly challenging. It involves a huge amount of planning, attention to detail and commitment. In this post, we'll tell you why it's best left to the pros.
The Challenges of Event Management
Putting Everyone Else First – When you're an event planner, you constantly have to put other people's needs before your own. Instead of being the centre of attention, you're working behind the scenes to make sure everything happens seamlessly. While you're working tirelessly to make sure everything goes to plan, clients and guests will be left with the impression that it all came together with ease. In order to do the job well and get satisfaction out of it, you must be prepared to put your own needs on the backburner.
Creativity – Toronto event management requires a flair for creativity. You can't just put on the same type of event over and over again. You need to constantly come up with new ideas for themes, decorations and entertainment. This is what sets great event planners apart from the competition.
Navigating Social Situations – One of the most important parts of event management is being a master of social interaction. It requires excellent people skills, as there is a lot of customer service and negotiation involved. Every client and event is different, and professionals need to adapt to their varying personalities and needs. This can be rather challenging.
Stress – It goes without saying that event management is extremely stressful. There are endless deadlines, as well as the constant pressure of having to make sure everything is perfect for the client. Event planners need to be extremely organized to prevent everything from getting on top of them. Otherwise, it's easy to become overwhelmed by it all.
Long Hours – Professional event planners don't have the luxury of set working hours. They need to work for as long as it takes to get everything done, and this can mean early starts and very late finishes. After an event, it's not uncommon to get home at 2am. Even when there isn't an event on, there are lots of appointments and meetings to carry out. This can involve lots of travelling, so commuting hours need to be added on, too. This can put a lot of strain on your personal life outside of work.
Toronto Event Management Professionals
If you're planning to put on the perfect party, wedding, dinner or awards ceremony, look no further than Varsity Event Management. We have years of experience in the field and a track record of happy customers and successful events. That's why we're one of the top providers of event management in Toronto. Let us plan your event for you, and we'll make sure everything goes off without a hitch.