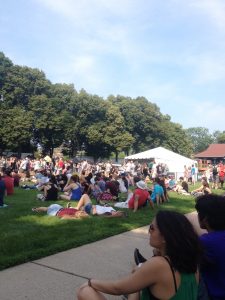 The long, beautiful lines of the festival tent have been welcoming festival goers since medieval times. They are a very real type of cultural signifier, almost iconic in their recognizability. At Varsity Tents we provide airy, strong festival tents for a variety of purposes including charity road races, street festivals, corporate celebrations, university graduations, family reunions, holiday festivals and much, much more. But what are the things you need to keep in mind when deciding exactly which festival tent options are appropriate for your event? In this post we'll touch on some of them.
Important Festival Tent Rental Considerations
Remember to keep the following considerations right up front when determining which type of festival tent rental and which options will be right for your big occasion:
Visitors – You'll want to have a good idea of how many visitors are expected, their age and any special considerations that may apply.
Vendors – Will there be vendors on the premises? Will there be vendors inside the tent itself? You'll need to make sure there's ample room under the tent to accommodate them and that you've thought out the traffic patterns around them.
What about catering? – Will there be open flames inside the tent or in close proximity? If so you'll need to make sure you have appropriate fire mitigation apparatus on hand and people who are properly trained in its use.
Size of the location – You may conclude that you need a really large festival tent but the location may make that impossible. In that case you may need to consider renting a number of our smaller tents to fulfil your needs.
Weather – The time of year will go a long way toward determining what type of weather conditions you'll face. Different conditions – rain, snow, high winds etc – call for different configurations and perhaps extra special care in anchoring the tent.
Vendor Tents
If you are a festival vendor and you won't be in the main tent but still want protection for yourself and your customers you may want to consider a frame tent. Frame tents can typically fit into areas where pole tents cannot and provide a single open area in the middle unencumbered by tent poles. Frame tents are usually easier to anchor on a wider variety of surfaces than pole tents which make them ideal for occupying those areas the main tent had to avoid.
This type of festival tent rental is common for lost and found and ticket/event information as well as being a popular choice for T-shirt vendors, liquid refreshments and other services that don't require large amounts of real estate but need to be free from natural interference.
Contact Varsity
Make your festival a resounding success by enlisting Varsity Tents to fulfil all your festival tent rental needs. We've been helping companies, charitable organizations, universities, high schools, neighbourhood groups, families and more turn their big day into one everyone will remember for the right reasons and we can help you too. Contact Varsity on (416) 410-7370 to find out more.