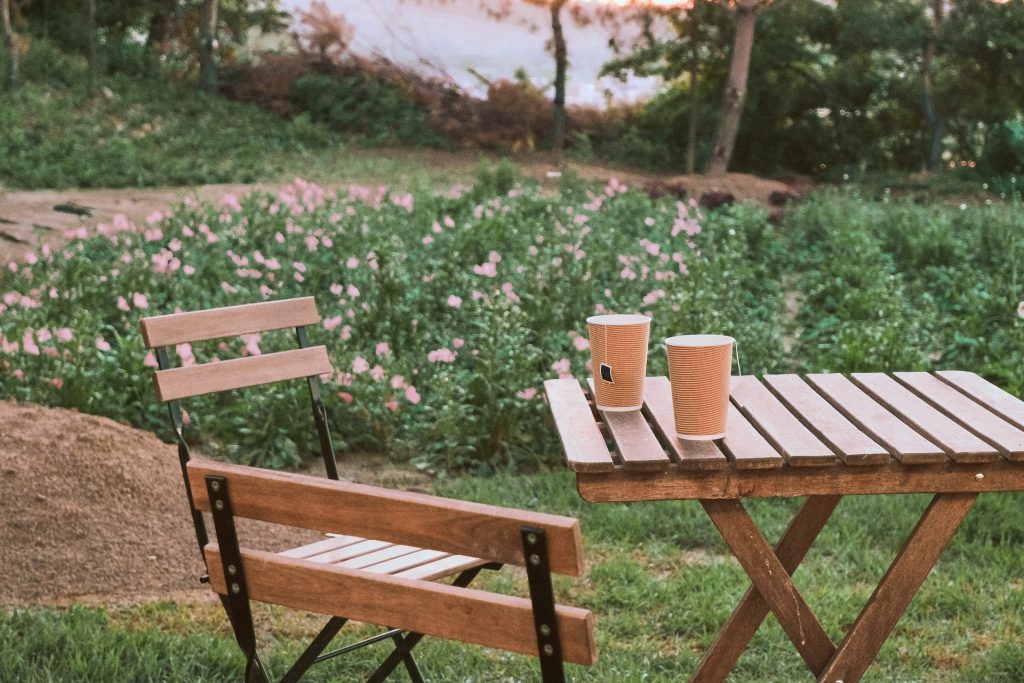 With COVID cases dropping, many companies are have employees returning to work from remote locations. Working in-facility comes with a number of benefits. Unfortunately, safety from virus spread isn't one of them. That's why implementing extra safety precautions is important. Varsity Tents wants to help prevent the return of COVID-19. Therefore, we suggest the use of indoor and outdoor tenting to provide barriers. After all, following safety procedures until the coronavirus is gone completely is the only way to ensure it stays gone. Here's how our tents can help.
Outdoor Lunch Areas
One of the highest risk parts of working in-facility is eating lunch around coworkers. Because eating requires removing your mask, the chance for spreading COVID rises significantly. Remember, someone can have COVID-19 for up to 2 weeks before symptoms appear. Even if you believe your employees are COVID-free, you don't want to find out you're wrong by catching it or, worse yet, having company-wide infection.
To prevent the spread of COVID while eating lunch at work, we suggest company leaders put outdoor tenting to use. Eating outdoors, where air is constantly flowing, is the most effective way to prevent spreading. Tents provide cover from the hot sun, potential rain, and birds. Tent flaps can be tied open to allow maximum airflow.
Isolated Workspaces
If you have stations at your company that aren't necessary to keep in one place, putting them outdoors is a great idea. Small tents allow for individual workspaces, keeping employees separated by barriers. The coverage and flaps on the tents make even office jobs involving papers possible to do outdoors.
For companies and businesses that are unable to bring work outdoors, indoor areas can also be divided with tents. This is great for businesses that involve small machines. Tents can be set up to isolate individual work stations. While masks should still be worn while working, tent divisions provide additional assurance that any particularly ambitious COVID particulates remain with their original host.
Item Quarantine
Separating workers is important, but quarantining potentially contaminated items is too. Countless other workers breathe on and touch your shipment in the chain of delivery. Therefore, put new shipments in an item quarantine tent for 5 days before distributing them throughout your facility. That gives any contaminants time to die off. 
Buy and Rent Tents
If you want to prevent COVID from turning your business into a ghost-town while employees end up hospitalized, it's best to take preventative measures. We believe our tent barriers are one of the most effective of these measures.
Give us a call to discuss tent rentals or buying outright. We'll be sure you get the size you need to best ensure the safety of your employees while returning to work. After all, your business and the safety of everyone involved in it relies on caution, especially under the circumstances.
Now that many are heading back to work outside the home, it's more important than ever to ensure safety guidelines are followed. Remaining cautious is how we'll ensure COVID-19 doesn't get another foothold in our society. So, let's face one of the questions many are asking: how can we safely take lunch breaks at work? After all, in order to eat, people will need to remove their masks. Fortunately, safe workplace lunch areas are easier than ever to achieve with outdoor tenting. Check out how Varsity Tents can help.
Avoiding Crowds
If we've learned anything about COVID-19 safety, it's that we need to avoid crowds. So, how is one supposed to eat lunch at the same time as half their coworkers? There are two answers to this great question.
The first is that management at any place of business should take the steps to increase lunch periods. If staff is typically split into two lunch periods, they should be split into four. This will cut the size of each lunch group in half, making it possible for coworkers to maintain distance from each other while maskless.
The second is that lunch breaks should take place outdoors. This improves safety in more than one way. Let's look at how eating outdoors improves safety.
The Safety of the Outdoors
The most important reason for eating outdoors is that the continuous flow of air keeps people from breathing in each other's air. We've learned that COVID-19 primarily spreads through aerosolized droplets. While it was initially believed surface contamination was a huge part of infection rates, it turns out it may be less involved than we thought. That means the virus is caught mainly through inhaling infected air that someone else has exhaled.
Because of this, distance is important, but not as important as keeping air flowing or filtered with specialized filtration devices. Eating outdoors keeps infected air continuously blown away by the breeze, protecting coworkers from any potential infection.
Additionally, being outdoors means having a lot more space to spread out. The more distance between two people, the less likely any infected air will be able to travel between them.
Comfort and Cover
While eating outdoors is an easy fix, it requires some equipment. Tables and chairs will need to be set up but, most importantly, employees will need some kind of cover for safe workplace lunch areas. Varsity Tents provides tents in many sizes. These tents can have their flaps opened up, providing cover from rain, the hot sun, and air stagnation. Flaps can optionally be opened or closed to provide shade on any side of the tent where the sun is shining.
With this setup of outdoor tenting, spaced-out seating, and continuous airflow, your employees will have a safe workplace lunch area where they can feel free to take off their mask and enjoy a nice meal before returning to work. A quick wipe-down of each seat and table space after use with 70% alcohol or soap and water will kill any virus left behind and leave the space safe and ready for the next person to clock out for lunch.
The days of hiding indoors from COVID-19 are coming to an end. To get back to something resembling normal, it's time we start adapting our environments so that they protect us during daily activities. When's the last time you saw your best friend? Wouldn't it be nice to grab some lunch this summer from the comfort of a restaurant patio? Social distancing at a restaurant patio is nearly impossible without some form of barrier. That's where Varsity Tents can make a difference. If you own a restaurant with patio space, now's the time to get back in the game.
Utilizing Tents in Patio Spaces
Patio space is going to be a life saver (and business saver) for many restaurants. COVID-19 has done a number on many indoor eating establishments and their ability to remain in business. Fortunately for those with patio space, reopening your doors is within the realm of possibility.
Opening up patios is possible with the help of tents. Implementing multiple, small tents, side by side, will provide a few safe places for guests to eat. With one or two sides of the tent open, air flow will sweep through and keep any contaminated air from stagnating in the area. The sides that remain down will provide a barrier between different tables. For a medium sized patio, this may allow up to 4 or 5 tables to be isolated for use. For a large one, you could fit even more!
The Safety of Outdoors
Indoor eating spaces are too risky to allow visitors to use due to the low air flow. Removal of masks indoors will contaminate the air of the entire indoor area. However, the same can't be said for outdoors. Patios offer the fantastic element of air flow. When guests sit down to eat and remove their masks, a barrier will prevent contamination between patio guests and the steady flow of outdoor air will keep any potential contamination from stagnating near tables.
Tent Bonuses
There are more bonuses that come with tents than just protection from COVID-19. Guests can enjoy a number of other features.
Tents provide more privacy than a usual patio table has to offer. The walls of a tent will make it harder to overhear other guests and also allow guests to relax while they eat with no one watching them.
The hot, summer sun will have a hard time disturbing your lunch with the shade offered by a patio tent. Get the pleasant sunshine you're after from one of the open tent sides, and avoid direct sunlight by utilizing the tent's shade.
Keep the patio open during summer rain! A little rain won't stop people from going out to lunch if they can eat under the cover of a tent.
Keep Small Business Safe
Small businesses are struggling to stay afloat during the pandemic. Whether you're a small business owner or someone who enjoys going out to eat, consider how patio tents could bring eating out back into the realm of possibility.
If you're interested in renting tents to allow social distancing at a restaurant patio, call us today at Varsity Tents. We can give you a free estimate before you commit and will help with delivery and installation if you decide our tents are right for you.
Social distancing is difficult for a large company or business, especially when it comes to gatherings. However, for certain companies that are working from an office, company-wide meetings will require many people to come together. However, doing so from a closed-in room is dangerous and makes it easy for COVID-19 to spread. Is there a way to bring back some more traditional meeting styles without endangering staff? The answer is yes! Outdoor meetings are exactly what you're looking for.
More Room for Gathering Safely
As we all know, it's best to keep at least 6 feet between us at all times. This keeps any potential contaminated particulates from traveling between people with ease. When gathering outside, there's more space to utilize, giving your staff plenty of room to spread out.
Placing seating with plenty of extra space between each seat makes finding a safe place to sit during a presentation easier than ever. Employees won't have to scramble to find somewhere far enough away from their peers when the most efficient arrangement is mapped out for them.
Fresh Air Minimizes Spread Potential
An indoor setting is one of the worst things for social distancing. Any contaminated air can remain stagnant, potentially infecting someone many hours after an infected person has left. This is why opening windows to indoor offices is a great idea. It helps clear out and replace the air in the building with some that's fresh.
Likewise, being outdoors is great for minimizing spread potential. Contaminants are easily blown away with a breeze. Therefore, it's unlikely that anyone will breathe in or contract COVID-19 during outdoor meetings.
Tents Provide Shelter
Outdoor meetings are great for social distancing during spring, but there is one caveat. Sometimes the outdoors gets in the way. That's where tent rentals come in. By ordering tent rentals in Toronto, you can beat the drawbacks of outdoor meetings with ease.
Rain or Shine
Tent cover makes it easy to meet no matter the weather. Even if it's raining, gathering under tent cover and keeping some of the tent flaps pulled back will help circulate air while keeping people dry. Plus, you won't have to worry about the sun getting in people's eyes when the weather is nice. Furthermore, when the sun is shining, you can keep most of the tent flaps pulled open, letting in lots of warmth and fresh air.
Presentation Friendly
One of the most business friendly parts of using a tent rental for your outdoor meetings is how presentation friendly they are. Even if most of the meeting attendees are seated without cover, keeping sound equipment, a projector, a screen, or any other presentation materials under the cover of a tent makes watching a Powerpoint or video easy. Glare from the sun will be blocked out and unexpected rain can't get in.
Schedule a Rental Today
When you're ready to take your spring meetings to the next level, call us at Varsity Tents. Our tent rentals are the best for facilitating safety and social distancing. Check out some of the other ways our tents can be used to provide barriers during COVID-19.
Stores are one of the few remaining hubs for activity these days. Therefore, they're one of the most dangerous places when it comes to catching COVID-19. What can we do, as store owners, to keep our many customers and employees safe? One way we can minimize the spread of COVID-19 is by quarantining new store shipments. Therefore, let's take a look at how to do that with tent shelters.
Set Up a Tent Shelter
Items being shipped from one place to another are touched by many hands. There are those from the people loading things to those from people checking truck contents. With all of the contact with the outside world, shipments can become contaminated with COVID-19. However, the virus can only live a few days on surfaces. Therefore, quarantining new store shipments allows some extra time for any COVID-19 to die off from contaminated items.
To minimize the spread of COVID-19, a store should set up a quarantine zone. A tent shelter is a great way to do this. Keeping new stock in a tent shelter will create a clear divide, ensuring employees don't contact the new shipments until they've had enough time to become safe.
Unload into Quarantine
When a new shipment comes in, unload it directly into the tent shelter. If you set up your tent shelter near where shipments are unloaded, you can simply tie back the tent flaps and use a forklift to drive pallets inside. Or, if your shipments come in boxes, employees will have ample room to unload by hand without crowding each other.
After unloading directly into the tent shelter for item quarantine, employees should wash their hands and leave the stock to sit for a few days. 3-5 days should do the trick.
Restock as Usual
When enough time has passed for any COVID-19 on the surfaces of the shipment to die off, it's time to restock. The tent flaps can be tied back, once more, and employees can move the quarantined shipment to the regular part of the stock room. From there, the items are safe to be put on the shelves of your store.
This practice of quarantining new store shipments ensures you're not introducing more COVID-19 into an already risky environment. Suppose your shipment had COVID-19 on it and was immediately put on the shelves after arrival. Employees would have contaminated their hands and then potentially spread it even further, to other items, during restocking. By quarantining the shipment, you've avoided this problem entirely.
Get the Right Size Tent
Every store is a different size and has a different demand for their tent shelters. Whether you need a small tent for quarantining a small grocery shipment or a huge one for a warehouse, Varsity Tents has you covered. We have tents of all sizes, which means we'll have exactly what you need, no matter the store. Tents can even be combined to create fully customizable quarantine shelters. Give us a call and we'll work to help you improve the safety of your store.