Whether you would like to hire a tent to accommodate guests at a lavish corporate celebration or for your children's friends at a small birthday party, you will want to know roughly how much it will cost before signing a rental contract. The best way to find out is to call us and request a quotation but before you do, you may like to consider the points below as they will all affect the final price that you are quoted.
Requirements That Directly Affect Tent Rental Prices
There are a number of factors that will influence the cost of your tent rental, the most important of which we have listed below for your consideration. If you know what you want in terms of these key factors, it will be easier for us to provide you with an accurate quotation when you call.
The Type of Surface on Which the Tent Will Be Erected – If you would like to have your tent erected on a solid surface, such as concrete or a large patio, we will probably need to use special equipment, which could increase the cost.
Size – One of the biggest factors to consider is the size of the tent or tents you will need for your event. Generally speaking, the bigger the tents, the bigger the tent rental prices are going to be. This is partly because bigger tents cost more to purchase in the first place and partly because there is a lot more work involved in erecting and dismantling the larger structures we have available.
Prevailing Weather Conditions – This can be tricky to predict but as a general guide, you can expect winter tent rental prices to be somewhat higher, owing to the extra effort it takes to erect canvas structures in adverse weather conditions. However, this has to be balanced against supply and demand – outdoor events are more common in the summer – so it is better not to make any firm assumptions as far as this particular factor is concerned.
Special Requirements – If you would like a tent that encompasses the trees in your garden or that covers other tall objects, it may take more time to erect and dismantle the whole structure, which will be reflected in the overall price.
Accessories – Additional items such as lighting, heating units, pole curtains and decorations will increase the rental cost so it is a good idea to make a note of all the accessories you may need before you call to request a quotation.
Rental Period – Our standard rental contracts are for four days or less but if you need a tent for longer than this, we will be more than happy to prepare a quote for the period of time that you have in mind.
Whatever your needs may be, please feel free to call and discuss them with us during normal business hours. Our tent rental prices are among the most competitive in Toronto and our customer service is simply the best!
Whether you are an experienced event manager or you have just been tasked with organizing a single event for your company, there are a number of serious errors that you will want to avoid at all costs. Some of them are more obvious than others but all 4 in our list are common mistakes that can have major repercussions.
Event Management in Toronto: What Not To Do
Whether you are close to our base in the city or a little further afield, you will want to make sure that you do not make any of the errors in the list below when organizing your next important event.
Failing to Consider the Weather – If there is a chance that it might rain during your event and it is being held outdoors, you should make sure that adequate cover is provided for all of your guests. Rental tents, which can be supplied with tables, chairs, heating and lighting, are perfect for outdoor events where food is being served and will ensure that your meal is not spoiled by a sudden shower. Even if it does not rain, some form of shelter will be welcomed by guests who do not want to stand in the sun all day.
Not Allowing for Spontaneity – While there is nothing wrong with planning every last detail of your event so that it goes smoothly, don't forget that your guests will want to enjoy themselves so allow a little room for spontaneity too. What we mean by this is don't try to control their every move: allow for the fact that some guests may wish to enjoy a quiet drink outside in the sun whereas others may prefer to stay inside the tented area. Others still may wish to move freely from one area to another and you should make adequate provisions for all of them. Trying to exercise too much control over guests' movements is a common error among many who are responsible for event management in Toronto and in other parts of the world too.
Failing to Track Changes – Whether you are faced with fluctuating attendance figures or constant requests for amendments to your arrangements by senior management, you need to keep a record of all changes. Failure to do so will result in a chaotic environment in which effective planning is an impossible goal. Make sure that your event management in Toronto never descends into chaos by tracking all changes carefully.
Not Following Standard Operating Procedures – If you have spent time creating SOPs for sourcing rental equipment, arranging catering and all other aspects of event management, make sure that you follow them. Deviating from tried and tested systems almost always leads to problems that could easily have been avoided.
We have helped many companies and individuals to organize highly successful events in the city and surrounding area so if you need any help with event management in Toronto, please contact us whenever convenient. We can supply large tents, tables, chairs, decorations and many other essential items for outdoor events of all kinds.
When event season comes around it can be a pretty busy time for the partygoer – but it's much more busy and stressful for the event planners themselves. Much of the stress comes way before the first guest even arrives, as choosing a special event rental company can be nearly impossible in such a saturated market. Here's what to look at for when it comes to picking one.
4 Red Flags for Special Event Rentals
A Reluctance to Let You Speak to their Past Clients
Throwing a party or an event should be a special occasion. More often than not they're done to celebrate something or someone, and you want an event that's just as special as the reason for having it. Therefore, it's only natural to want to know that the company you choose can handle such an event well, and to want to speak to their previous clients. A good company will be proud of their record and more than happy to put you in touch. However, alarm bells should be ringing if they refuse. Why not? What are they trying to hide? Approach such a company with caution.
No Definitive Price List, or Reluctant to Give a Quote
There's no denying that throwing an event is a costly move, with good parties tending to cost thousands of dollars. With that in mind, it's natural to want to budget and know how much you're spending so you can plan appropriately. Many special event rental companies will be transparent with their pricing strategy, whereas others might be a little more cagey or reluctant to give you a quote. It's important to find out the figures as early as possible so you can prepare for it and to make sure you're not getting overcharged. Make sure to pick a company with a transparent pricing policy, to not only save yourself time but to prevent any nasty shocks or hassle.
No Experience
All businesses have to start somewhere, and for some events picking a smaller, new company to organize it might be fine. But when it comes to throwing a medium to large size event, make sure you pick a company with sufficient experience. No company will turn down your approach if you've got a large event planned, yet some simply might not be up to the job – which could turn your event into a nightmare.
Not Listening and Constant Upselling
Make sure you pick a company that takes note of what you're saying and probes further, rather than trying to upsell at every opportunity. They'll genuinely have your interests at heart and will care about your event being a smash, not just profit for them.
Save Yourself the Stress
You're never going to be completely stress free when it comes to organizing an event but if you follow the steps above, you can take some weight off your shoulders, knowing your event is in good hands with a company you thoroughly vetted beforehand.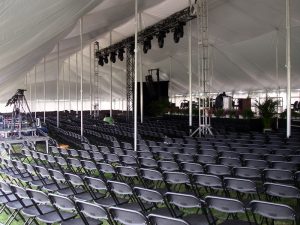 Whether it's a good event you'll never forget or a bad event you remember for the wrong reasons, you can count on there having been an event manager working his socks off just to get the thing to go ahead. However, hard work doesn't always mean your event will be a success, so here's how to be more efficient when it comes to event management in Toronto.
Event management in Toronto – 5 Tips for Efficiency and Success
The Early Bird Catches the First Worm
From the moment you even begin to think about throwing an event – whether it's a party, a festival or a wedding – you should be planning for it. How many people? Where? Is there a theme? Is it catered? By asking these questions from the get-go and making all the necessary phone calls way in advance, you can prevent any headaches or problems from occurring down the line by having everything ready to go. Don't run the risk of a sound system being fully booked or the caterers not able to prepare with just a week's notice – get it booked in months in advance, so you'll have time to react to any hitches.
Delegate
A good event has too many things for one person to consider – plates, music, food, tents, floors, tables, invites…you get the picture. For efficient event management in Toronto, rather than look to do it all yourself, delegate or spread out the workload to other people involved. That way, you can keep track on what you've done already and what there is still to do more easily, and you won't be super stressed either.
Note All Your Interactions and Quotes
With event management in Toronto, the likelihood is that you're going to be on the phone or online a lot, sourcing the best possible deals for the party and finding out all the little details. Make sure you write it all down. Nobody can possibly remember every little detail, and don't waste time calling the same company twice to ask the same thing because you forgot.
Send the Invites Early
This works for two reasons – not only can you see how many people you're planning for, it's also one less thing to worry about as D-Day draws nearer. Nobody wants to host an event where they think only 50 people are coming, only to find it it's more like 100 when the RSVPs come back days before it starts.
Follow a Guide Online
Whether you're a seasoned event manager or a complete novice, it's always going to be hard to plan what exactly you need, how many forks you need, how big the tent should be etc. That's why you should look to the web for inspiration. Whilst not perfect, it can give you a starting point from where you can work, saving you days in planning. Now that's efficiency.
And Breathe!
We're not going to lie to you – it's a stressful line of work but it's so rewarding when you see people having the time of their lives. Follow the steps to make it easier in the first place, and all you'll have to worry about is finding the right outfit to wear.
Everybody can remember the great parties in their lives well – but they can remember the bad ones even better. Throwing an event therefore can be a daunting process, with many factors that have to work together to really make a night to remember. But before you go ahead contacting event rentals and organizing an event, there are a few things that you may want to think about first.
Event Rentals – What To Consider
What Kind of Event is it?
As you know, there are more different kinds of events than you could possibly even begin to count. From formals to bar mitzvahs, sports days to weddings, each one is different and so each one will need special features that others might not need. It may sound obvious, but before you go contacting an event rental company make sure you know what kind of event you're planning and what it needs or doesn't need. This way you could contact an event company who specialize in that, or you could go to a general one and tell them exactly what you need.
Whilst it might be tempting to tell your friends that they can invite whoever they want, you'll want to have a clear number of how many people are coming instead. There's nothing worse than booking a tent or space that's way too small for the number of guests you have, and so you need to take precautions to ensure it doesn't get out of hand. Make sure you pick a company that's catered to such an audience before to ensure that they can provide everything you need to make your event run smoothly. You don't want guests dancing on your lawn!
Themes – Do You Have One and Can the Company Help?
Quite often, the more memorable events are those that come with a theme. Whether it's a colored theme, a formal theme or something a little more fun like a masquerade ball theme, they're definitely one way to impress your guests and make sure they're talking about it for weeks to come. If you're going with a theme, make sure to tell the event rental company when you're enquiring about their services. They might be able to help you, either stocking some of the items that you need or having links with other companies that do.
Some events can run up bills of thousands of dollars. You can save by finding a company that can work with you – you might already have some things that are included in the rental price, so talk to them to find out if you can save or not. Some might also provide catering, which could help you save compared to hiring an external company – so if you're looking to provide food, this could be something to look for.
A Night to Remember
Whatever your event is, by planning ahead, comparing what different event companies can offer and knowing exactly what you want, you can make sure that you have an event you'll never forget – and one that's a little kinder on your wallet.