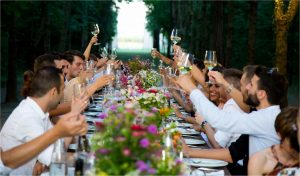 Outdoor wedding trends are all about creating the best atmosphere for a new couple to beginning their lives together. The main thing is to take advantage of what already exists and to try to enhance it. Start by finding a venue that means something to you. Then, look to small, meaningful ways that you can ensure your wedding will be a day you won't ever forget.
Backdrop
As everyone sits in the audience, looking at the bride and groom recite their vows, why not wow your guests with a stunning backdrop? Mountains, the ocean, a grove of trees, all are free forms of decoration and as a bonus, the wedding pictures will look truly superb.
If you're a true perfectionist, try to time the wedding ceremony with the setting of the sun. This will really wow your guests.
Different Areas
It can be tempting to have all the wedding elements under one big tent, but one of the outdoor wedding trends that is popping up is multiple areas under multiple tents. Different areas include eating, dancing, lounging, and drinking. This has a few results.
One result is that there are more cozy, intimate areas. It can be hard to talk over the dim of the wedding band, and a separate lounge tent allows a space for those wanting conversation. Tents can be open or closed depending on the space or feel of the wedding.
Different tent areas add variety and something that guests will notice and remember. To add even more variety, have different sizes of tents. Include micro-tents that can only accommodate one lounger. Then, have larger ones that can hold a bar area and a few chairs. Variety will make guests want to circulate and discover.
Blend formal with casual
Just because your wedding is outdoors, doesn't mean that it will be a casual BBQ affair. Instead, blend the rustic charm of the outdoors with the formal elements of a posh wedding. China plates and sterling silver cutlery with linen napkins show sophistication. Pair them atop a wooden table for a great juxtaposition.
Host the wedding inside a barn but have a chandelier hanging from its ceiling. Use gold accents and gingham fabric. There are less restrictions with outdoor wedding trends, so don't be afraid to take a few risks with the décor. It's a great chance to show your diverse personality.
Flower power
Like all weddings, flowers hold a special place in outdoor weddings. Here, though, you can be really creative. There is more space for potted flowers and shrubs. You can also choose a venue that has a garden for spectacular live flowers.
Add a personal element by using local flowers from your garden in your bouquet. The more meaning that is incorporated into a wedding, the better it will be.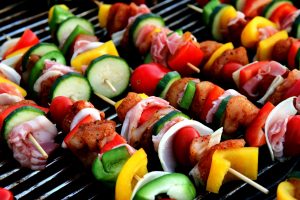 As summer starts to heat up, it's natural to want to plan the perfect BBQ party. It's always fun to bring people together, and a BBQ party is a great way to do so. Read on to find some helpful tips for planning the perfect BBQ party.
Save the date
There's nothing worse than panning the perfect BBQ party only for no one to show up. So start by talking to the people that will be coming to see what dates will work out. Try to avoid long weekends as people normally travel out of town. Have the expectation that not everyone will be able to come, so don't be disappointed if this happens.
Once you have a consensus a date that works for most people, send out the invitation. Sites like Facebook or evites are great for electronic notices. Make sure you send reminders closer to the date so no one forgets.
Location, location, location
The perfect BBQ party needs to be outside, so there are plenty of options for the best location. If you or someone you know has as large backyard that would be a convenient location as it allows for more food prep with a kitchen.
If this isn't an option, look for local parks or beaches. For a specific picnic area, check with the local park board to see if it can be reserved. If not, you may need to send someone out early as popular spots can fill up fast.
No matter the location, think about the worst that could happen for a BBQ party: rain! Even at the height of summer, rain is always a possibility. If you can reserve an undercover picnic spot at a park, the better. If not, consider renting a tent, just in case. There's nothing worse than soggy hamburgers, but a party tent can salvage any BBQ party and keep spirits bright.
It's all about the food
Preparation is key to making a successful BBQ party. You want to enjoy the party with everyone else, so the more prep that is done means the more time you get to spend at the party. Make your hamburger patties up the day before, or better yet, buy pre-made ones. Even something as simple of ensuring the buns have been sliced will help. Fruit and vegetables can be cut up ahead of time, or trays can also be bought at any grocery store.
If you are inviting a lot of people to the BBQ, don't be afraid to ask for help. It's quite common for the party hosts to provide the main meal, and for guests to bring extras like chips, dips, and other snacks. It's always exciting to try different recipes. To avoid duplicates, however, it may be a good idea to ask everyone to share what they plan on bringing.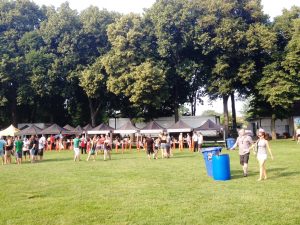 Event planning is a fun and exciting job. You get to put together lots of different parties, ceremonies and corporate events, and to enjoy the satisfaction of watching your clients enjoy them. For extroverts, people pleasers and social butterflies, it can be the perfect job. However, it's also incredibly challenging. It involves a huge amount of planning, attention to detail and commitment. In this post, we'll tell you why it's best left to the pros.
The Challenges of Event Management
Putting Everyone Else First – When you're an event planner, you constantly have to put other people's needs before your own. Instead of being the centre of attention, you're working behind the scenes to make sure everything happens seamlessly. While you're working tirelessly to make sure everything goes to plan, clients and guests will be left with the impression that it all came together with ease. In order to do the job well and get satisfaction out of it, you must be prepared to put your own needs on the backburner.
Creativity – Toronto event management requires a flair for creativity. You can't just put on the same type of event over and over again. You need to constantly come up with new ideas for themes, decorations and entertainment. This is what sets great event planners apart from the competition.
Navigating Social Situations – One of the most important parts of event management is being a master of social interaction. It requires excellent people skills, as there is a lot of customer service and negotiation involved. Every client and event is different, and professionals need to adapt to their varying personalities and needs. This can be rather challenging.
Stress – It goes without saying that event management is extremely stressful. There are endless deadlines, as well as the constant pressure of having to make sure everything is perfect for the client. Event planners need to be extremely organized to prevent everything from getting on top of them. Otherwise, it's easy to become overwhelmed by it all.
Long Hours – Professional event planners don't have the luxury of set working hours. They need to work for as long as it takes to get everything done, and this can mean early starts and very late finishes. After an event, it's not uncommon to get home at 2am. Even when there isn't an event on, there are lots of appointments and meetings to carry out. This can involve lots of travelling, so commuting hours need to be added on, too. This can put a lot of strain on your personal life outside of work.
Toronto Event Management Professionals
If you're planning to put on the perfect party, wedding, dinner or awards ceremony, look no further than Varsity Event Management. We have years of experience in the field and a track record of happy customers and successful events. That's why we're one of the top providers of event management in Toronto. Let us plan your event for you, and we'll make sure everything goes off without a hitch.
Whether you would like to hire a tent to accommodate guests at a lavish corporate celebration or for your children's friends at a small birthday party, you will want to know roughly how much it will cost before signing a rental contract. The best way to find out is to call us and request a quotation but before you do, you may like to consider the points below as they will all affect the final price that you are quoted.
Requirements That Directly Affect Tent Rental Prices
There are a number of factors that will influence the cost of your tent rental, the most important of which we have listed below for your consideration. If you know what you want in terms of these key factors, it will be easier for us to provide you with an accurate quotation when you call.
The Type of Surface on Which the Tent Will Be Erected – If you would like to have your tent erected on a solid surface, such as concrete or a large patio, we will probably need to use special equipment, which could increase the cost.
Size – One of the biggest factors to consider is the size of the tent or tents you will need for your event. Generally speaking, the bigger the tents, the bigger the tent rental prices are going to be. This is partly because bigger tents cost more to purchase in the first place and partly because there is a lot more work involved in erecting and dismantling the larger structures we have available.
Prevailing Weather Conditions – This can be tricky to predict but as a general guide, you can expect winter tent rental prices to be somewhat higher, owing to the extra effort it takes to erect canvas structures in adverse weather conditions. However, this has to be balanced against supply and demand – outdoor events are more common in the summer – so it is better not to make any firm assumptions as far as this particular factor is concerned.
Special Requirements – If you would like a tent that encompasses the trees in your garden or that covers other tall objects, it may take more time to erect and dismantle the whole structure, which will be reflected in the overall price.
Accessories – Additional items such as lighting, heating units, pole curtains and decorations will increase the rental cost so it is a good idea to make a note of all the accessories you may need before you call to request a quotation.
Rental Period – Our standard rental contracts are for four days or less but if you need a tent for longer than this, we will be more than happy to prepare a quote for the period of time that you have in mind.
Whatever your needs may be, please feel free to call and discuss them with us during normal business hours. Our tent rental prices are among the most competitive in Toronto and our customer service is simply the best!
Whether you are an experienced event manager or you have just been tasked with organizing a single event for your company, there are a number of serious errors that you will want to avoid at all costs. Some of them are more obvious than others but all 4 in our list are common mistakes that can have major repercussions.
Event Management in Toronto: What Not To Do
Whether you are close to our base in the city or a little further afield, you will want to make sure that you do not make any of the errors in the list below when organizing your next important event.
Failing to Consider the Weather – If there is a chance that it might rain during your event and it is being held outdoors, you should make sure that adequate cover is provided for all of your guests. Rental tents, which can be supplied with tables, chairs, heating and lighting, are perfect for outdoor events where food is being served and will ensure that your meal is not spoiled by a sudden shower. Even if it does not rain, some form of shelter will be welcomed by guests who do not want to stand in the sun all day.
Not Allowing for Spontaneity – While there is nothing wrong with planning every last detail of your event so that it goes smoothly, don't forget that your guests will want to enjoy themselves so allow a little room for spontaneity too. What we mean by this is don't try to control their every move: allow for the fact that some guests may wish to enjoy a quiet drink outside in the sun whereas others may prefer to stay inside the tented area. Others still may wish to move freely from one area to another and you should make adequate provisions for all of them. Trying to exercise too much control over guests' movements is a common error among many who are responsible for event management in Toronto and in other parts of the world too.
Failing to Track Changes – Whether you are faced with fluctuating attendance figures or constant requests for amendments to your arrangements by senior management, you need to keep a record of all changes. Failure to do so will result in a chaotic environment in which effective planning is an impossible goal. Make sure that your event management in Toronto never descends into chaos by tracking all changes carefully.
Not Following Standard Operating Procedures – If you have spent time creating SOPs for sourcing rental equipment, arranging catering and all other aspects of event management, make sure that you follow them. Deviating from tried and tested systems almost always leads to problems that could easily have been avoided.
We have helped many companies and individuals to organize highly successful events in the city and surrounding area so if you need any help with event management in Toronto, please contact us whenever convenient. We can supply large tents, tables, chairs, decorations and many other essential items for outdoor events of all kinds.