When event season comes around it can be a pretty busy time for the partygoer – but it's much more busy and stressful for the event planners themselves. Much of the stress comes way before the first guest even arrives, as choosing a special event rental company can be nearly impossible in such a saturated market. Here's what to look at for when it comes to picking one.
4 Red Flags for Special Event Rentals
A Reluctance to Let You Speak to their Past Clients
Throwing a party or an event should be a special occasion. More often than not they're done to celebrate something or someone, and you want an event that's just as special as the reason for having it. Therefore, it's only natural to want to know that the company you choose can handle such an event well, and to want to speak to their previous clients. A good company will be proud of their record and more than happy to put you in touch. However, alarm bells should be ringing if they refuse. Why not? What are they trying to hide? Approach such a company with caution.
No Definitive Price List, or Reluctant to Give a Quote
There's no denying that throwing an event is a costly move, with good parties tending to cost thousands of dollars. With that in mind, it's natural to want to budget and know how much you're spending so you can plan appropriately. Many special event rental companies will be transparent with their pricing strategy, whereas others might be a little more cagey or reluctant to give you a quote. It's important to find out the figures as early as possible so you can prepare for it and to make sure you're not getting overcharged. Make sure to pick a company with a transparent pricing policy, to not only save yourself time but to prevent any nasty shocks or hassle.
No Experience
All businesses have to start somewhere, and for some events picking a smaller, new company to organize it might be fine. But when it comes to throwing a medium to large size event, make sure you pick a company with sufficient experience. No company will turn down your approach if you've got a large event planned, yet some simply might not be up to the job – which could turn your event into a nightmare.
Not Listening and Constant Upselling
Make sure you pick a company that takes note of what you're saying and probes further, rather than trying to upsell at every opportunity. They'll genuinely have your interests at heart and will care about your event being a smash, not just profit for them.
Save Yourself the Stress
You're never going to be completely stress free when it comes to organizing an event but if you follow the steps above, you can take some weight off your shoulders, knowing your event is in good hands with a company you thoroughly vetted beforehand.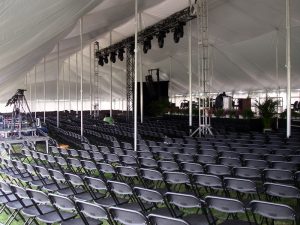 Whether it's a good event you'll never forget or a bad event you remember for the wrong reasons, you can count on there having been an event manager working his socks off just to get the thing to go ahead. However, hard work doesn't always mean your event will be a success, so here's how to be more efficient when it comes to event management in Toronto.
Event management in Toronto – 5 Tips for Efficiency and Success
The Early Bird Catches the First Worm
From the moment you even begin to think about throwing an event – whether it's a party, a festival or a wedding – you should be planning for it. How many people? Where? Is there a theme? Is it catered? By asking these questions from the get-go and making all the necessary phone calls way in advance, you can prevent any headaches or problems from occurring down the line by having everything ready to go. Don't run the risk of a sound system being fully booked or the caterers not able to prepare with just a week's notice – get it booked in months in advance, so you'll have time to react to any hitches.
Delegate
A good event has too many things for one person to consider – plates, music, food, tents, floors, tables, invites…you get the picture. For efficient event management in Toronto, rather than look to do it all yourself, delegate or spread out the workload to other people involved. That way, you can keep track on what you've done already and what there is still to do more easily, and you won't be super stressed either.
Note All Your Interactions and Quotes
With event management in Toronto, the likelihood is that you're going to be on the phone or online a lot, sourcing the best possible deals for the party and finding out all the little details. Make sure you write it all down. Nobody can possibly remember every little detail, and don't waste time calling the same company twice to ask the same thing because you forgot.
Send the Invites Early
This works for two reasons – not only can you see how many people you're planning for, it's also one less thing to worry about as D-Day draws nearer. Nobody wants to host an event where they think only 50 people are coming, only to find it it's more like 100 when the RSVPs come back days before it starts.
Follow a Guide Online
Whether you're a seasoned event manager or a complete novice, it's always going to be hard to plan what exactly you need, how many forks you need, how big the tent should be etc. That's why you should look to the web for inspiration. Whilst not perfect, it can give you a starting point from where you can work, saving you days in planning. Now that's efficiency.
And Breathe!
We're not going to lie to you – it's a stressful line of work but it's so rewarding when you see people having the time of their lives. Follow the steps to make it easier in the first place, and all you'll have to worry about is finding the right outfit to wear.
Everybody can remember the great parties in their lives well – but they can remember the bad ones even better. Throwing an event therefore can be a daunting process, with many factors that have to work together to really make a night to remember. But before you go ahead contacting event rentals and organizing an event, there are a few things that you may want to think about first.
Event Rentals – What To Consider
What Kind of Event is it?
As you know, there are more different kinds of events than you could possibly even begin to count. From formals to bar mitzvahs, sports days to weddings, each one is different and so each one will need special features that others might not need. It may sound obvious, but before you go contacting an event rental company make sure you know what kind of event you're planning and what it needs or doesn't need. This way you could contact an event company who specialize in that, or you could go to a general one and tell them exactly what you need.
Whilst it might be tempting to tell your friends that they can invite whoever they want, you'll want to have a clear number of how many people are coming instead. There's nothing worse than booking a tent or space that's way too small for the number of guests you have, and so you need to take precautions to ensure it doesn't get out of hand. Make sure you pick a company that's catered to such an audience before to ensure that they can provide everything you need to make your event run smoothly. You don't want guests dancing on your lawn!
Themes – Do You Have One and Can the Company Help?
Quite often, the more memorable events are those that come with a theme. Whether it's a colored theme, a formal theme or something a little more fun like a masquerade ball theme, they're definitely one way to impress your guests and make sure they're talking about it for weeks to come. If you're going with a theme, make sure to tell the event rental company when you're enquiring about their services. They might be able to help you, either stocking some of the items that you need or having links with other companies that do.
Some events can run up bills of thousands of dollars. You can save by finding a company that can work with you – you might already have some things that are included in the rental price, so talk to them to find out if you can save or not. Some might also provide catering, which could help you save compared to hiring an external company – so if you're looking to provide food, this could be something to look for.
A Night to Remember
Whatever your event is, by planning ahead, comparing what different event companies can offer and knowing exactly what you want, you can make sure that you have an event you'll never forget – and one that's a little kinder on your wallet.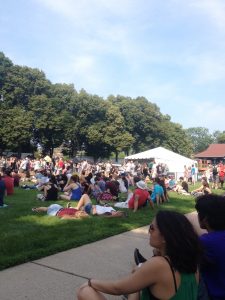 The long, beautiful lines of the festival tent have been welcoming festival goers since medieval times. They are a very real type of cultural signifier, almost iconic in their recognizability. At Varsity Tents we provide airy, strong festival tents for a variety of purposes including charity road races, street festivals, corporate celebrations, university graduations, family reunions, holiday festivals and much, much more. But what are the things you need to keep in mind when deciding exactly which festival tent options are appropriate for your event? In this post we'll touch on some of them.
Important Festival Tent Rental Considerations
Remember to keep the following considerations right up front when determining which type of festival tent rental and which options will be right for your big occasion:
Visitors – You'll want to have a good idea of how many visitors are expected, their age and any special considerations that may apply.
Vendors – Will there be vendors on the premises? Will there be vendors inside the tent itself? You'll need to make sure there's ample room under the tent to accommodate them and that you've thought out the traffic patterns around them.
What about catering? – Will there be open flames inside the tent or in close proximity? If so you'll need to make sure you have appropriate fire mitigation apparatus on hand and people who are properly trained in its use.
Size of the location – You may conclude that you need a really large festival tent but the location may make that impossible. In that case you may need to consider renting a number of our smaller tents to fulfil your needs.
Weather – The time of year will go a long way toward determining what type of weather conditions you'll face. Different conditions – rain, snow, high winds etc – call for different configurations and perhaps extra special care in anchoring the tent.
Vendor Tents
If you are a festival vendor and you won't be in the main tent but still want protection for yourself and your customers you may want to consider a frame tent. Frame tents can typically fit into areas where pole tents cannot and provide a single open area in the middle unencumbered by tent poles. Frame tents are usually easier to anchor on a wider variety of surfaces than pole tents which make them ideal for occupying those areas the main tent had to avoid.
This type of festival tent rental is common for lost and found and ticket/event information as well as being a popular choice for T-shirt vendors, liquid refreshments and other services that don't require large amounts of real estate but need to be free from natural interference.
Contact Varsity
Make your festival a resounding success by enlisting Varsity Tents to fulfil all your festival tent rental needs. We've been helping companies, charitable organizations, universities, high schools, neighbourhood groups, families and more turn their big day into one everyone will remember for the right reasons and we can help you too. Contact Varsity on (416) 410-7370 to find out more.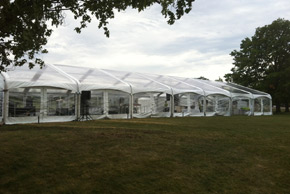 If it's your first time enlisting the services of an events rental company the experience can be a bit daunting. Who, besides industry pros, really knows anything about renting a pole tent and the like if they've never done it before? If you said 'nobody' you're right. But, like a lot of things, the secret to working successfully with a rental company is breaking things down into manageable pieces. First and foremost that means knowing what questions to ask. In this post we're going to look at 5 questions you should have ready to ask the rental company when planning your big event.
Ask These Questions of Your Special Events Rental Company
Don't go into your big event unprepared. Make sure you ask the following 5 questions of your events rental company. They'll help you get a hold of things and ensure a successful outcome.
How much time is required for setup and takedown? – Unless your event is occurring on your own property, then there will likely be rules in place stating when vendors can access the grounds and when they have to be out at the end of the event. As such you'll need to make sure your start and end times allow for the special events rental company to get in and out.
How much of a deposit do you require? – This question should be one of the first you ask because if they're asking too much you'll need to move on quickly and find someone else. Different companies have different requirements. You may really want to work with a certain company but their deposit requirements may make it impossible.
Do you own the items you rent? – This is one not many people think to ask. A company that owns all of its own equipment will have total control over the maintenance of that equipment and you're likely to get a higher quality product. Also, companies that don't own the equipment typically need to mark things up higher to cover the 3rd party costs.
Do you charge a distance premium? – Some companies charge extra if they have to drive more than X distance from their headquarters. Others don't or may be located closer to your planned event so distance won't be a factor. Ask them if they apply a distance premium so you're not surprised when you get your bill.
Do they offer an off-season discount? – If the date of your event isn't set in stone and the special events rental company offers an off season discount it may be in your interest to delay things to take advantage. If your event is already scheduled for what is considered an off-season date you'll also want to know about any discounts.
Take control of your event planning with the above questions. The answers you get will help set your event on a path toward a successful outcome and help reduce your stress level by several degrees of magnitude. Call Varsity tents on (416) 410-7370 to find out more about special events rental equipment in the GTA.